News & Features
Nov 14, 2019
Insular Foundation, Cebuanna Lhuillier forge partnership
To help Filipinos complete basic education, Insular Foundation, Insular Life's corporate social responsibility arm, teamed up with Cebuana Lhuillier Foundation to support the Alternative Learning System (ALS) Program.
The ALS program is a parallel learning system for those who do not have or cannot access formal education in schools. It includes both the non-formal and informal sources of knowledge and skills.
To kick-off the partnership, Insular Foundation has donated a laptop, printer and projector, as well as ALS learning modules for the ALS Community Learning Center in Pedro Guevarra Elementary School in Binondo, Manila.
"Insular Foundation is here to do its share to bridge the gap between the hope that the students keep in their hearts, and the reality of a better future for themselves and their families. We have been doing this for 50 years now," said Mr. Ramon M. Cabrera, Insular Foundation trustee, and InLife Senior Vice President.
Mr. Cabrera noted that by supporting the ALS program, Insular Foundation will be able to help improve the learning outcome of students in the Pedro Guevarra community center.
"As it is our desire to make education inclusive and accessible to all, we entered into a partnership with the Cebuana Lhuillier Foundation to support its Alternative Learning System Program. We believe in this approach because it provides a practical option to the existing formal schooling," he added.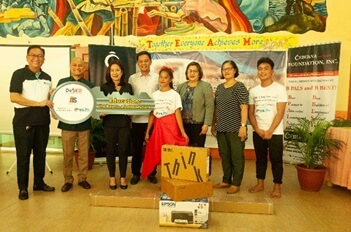 Alternative learning is the key. (From left) Insular Foundation trustee and InLife Senior Vice President Ramon M. Cabrera; Cebuana Lhuillier Foundation Executive Director Jonathan D. Batangan; and Insular Foundation Executive Director, and InLife Vice President Staff Ana Maria R. Soriano present the symbolic key to the ALS Community Learning Center to students and officials, namely, Dr. George D. Borromeo, OIC – Principal, Pedro Guevarra Elementary School (fourth from left), Ms. Merie Gerlie V. Capiral, Public Schools District Supervisor, Department of Education (third from right), and Ms. Wendella B. Tabio, Education Program Supervisor - ALS (second from right).